Services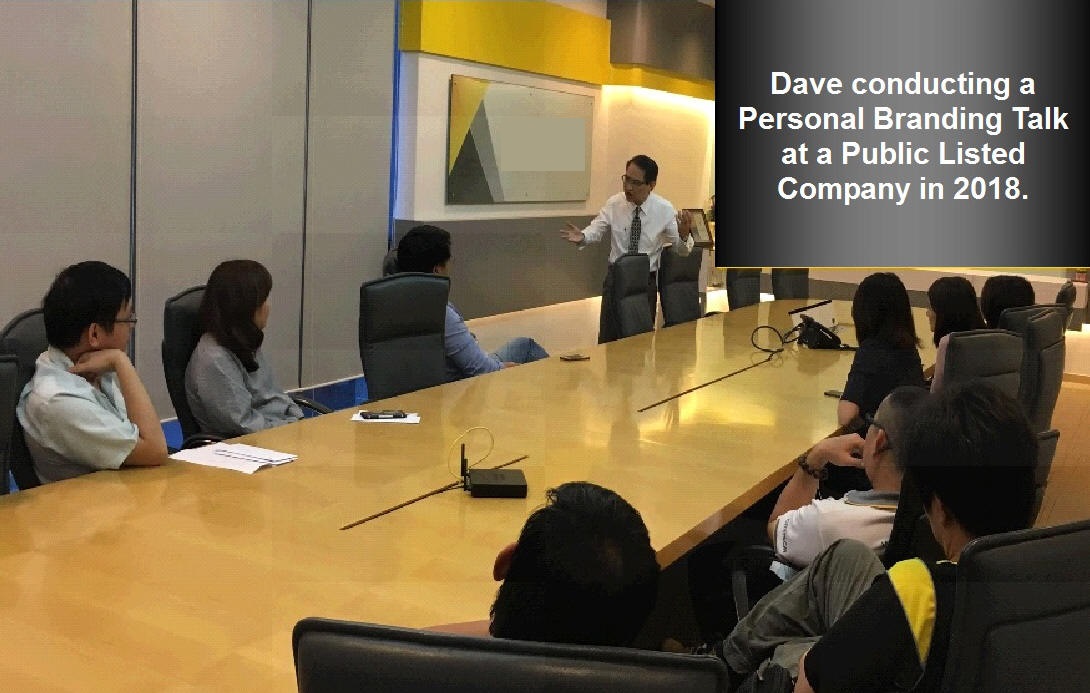 Advisory
We are all branded. Your Personal Brand is a very important asset in your professional and personal lives. It is the key to your success. Is your Personal Brand being perceived positively by your Target Audience? Choose to develop your authentic, distinctive Brand YOU that will help you become more successful in your career, business and personal life.

Our one-on-one advisory helps you to define, position, communicate and grow your Unique Brand YOU to shine distinctively from the crowd.

The duration of our one-on-one advisory ranges from two to ten weekly sessions of one hour per session, depending on your unique needs.

The advisory process is done confidentially.

Personal Brand Advisor
Our Personal Brand Advisor for Advisory Service is Dave Chong who is a Success Coach & Personal Brand Advisor.

Commencement Date
As the Advisory Service is conducted on a one-on-one basis, the commencement date can be arranged to suit the individual.
Program
In-house Workshop
The program name is "Build your Brand YOU to succeed"

Date & Time
The date and time of the workshop can be arranged to suit your organization.

Program Contents
WHY PERSONAL BRANDING MATTERS

Current Brand "YOU" Image Audit
| | |
| --- | --- |
| 1. | What is your Brand YOU now? |
| 2. | How did you get here? |
Defining, DIFFERENTIATING and positioning your new Brand "YOU"
1.

Target Audience

Demographics.

Psychographics.

Rational and emotional needs.

2.

The Crowd

What others are offering? How are they offering?

3.

Unique Strengths

What are your purpose, values and passion?

What are your strengths?

The "Why" - why should your audience trust you?

4.

Brand Personality

The way you offer your strengths.

5.

Your Personal Brand Positioning Statement

Your Unique Value Proposition.
eight Personal branding strategies
| | |
| --- | --- |
| | The best eight Personal Branding strategies. |
Communicating Brand "YOU"
1.

Developing Communication Strategy

Actions and gestures, visual, verbal and perception.

Essential etiquette.

2.

Branding Channels

Choosing Branding Channels.
Sustaining Brand "YOU"
| | |
| --- | --- |
| 1. | Authenticity and Consistency |
| 2. | The "Dos" and "Don'ts" |
Program Coach
The program coach is Dave Chong.
Certificate of Attendance
Certificate of Attendance will be issued by Personal Branding Institute (PBI) to participants who have successfully completed the Personal Branding Program.
Program Schedule For One-On-One
It can be done in 6 sessions of 1 hour per session. Each session can be conducted on a bi-weekly, weekly or fortnightly basis, depending on your preference.